Our services consist of eWaste management and collection, computer repairs and support, and the sale of high-quality refurbished second-hand computers.
Our goal is to offer high-quality refurbished computers (and repair and support) at affordable rates for people who might not normally be able to buy or pay for this type of equipment or service.
Registered Microsoft Refurbisher
Flashdrive is a registered and accredited Microsoft Refurbuisher.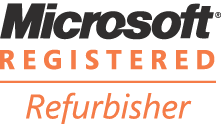 Sales and Repair of IT Equipment
Refurbished second-hand hardware
Desktop and laptop computers, CRT and flat screens, keyboards and mice
Software and hardware
Conditions apply to sale and repairs. All PC's are individually and competitively priced. As stock is constantly changing please ask our staff for assistance and a full list of items available.
eWaste (Technology reuse, repurpose, and recycling)
Flash Drive will take all eWaste from your business or home – either via drop-off or pick-up can be arranged.
We encourage a culture of recycling and support for environment by reducing landfill through effective E-Waste management. Our philosophy is to refurbish equipment where possible – or to responsibly dismantle and recycle as much of every machine as is possible.
We accept all computer parts, monitors (flat or CRT), keyboards, mice,  and all electrical leads.